Healthcare Interoperability Challenges
Healthcare data is often stored in proprietary systems and formats, making it difficult to achieve interoperability between different organizations. When exchanging data between systems, there is a risk of exposing sensitive patient data and breaching privacy regulations. HL7v2, HL7v3, and FHIR have different structures, syntax, and semantics, making it difficult to exchange data between them. HL7v2 and HL7v3 formats are not designed for interoperability, security or scalability in mind, making it difficult for different systems to communicate effectively. The technical complexity of the different formats and systems makes it difficult for healthcare organizations to integrate them. We have transformed the healthcare data integration using artificial intelligence and machine learning. We have created advanced ETL processes whcih run on high-throughput publish-subscribe system, making healthcare interoperability seamless for our clients. ​
FHIR (Fast Healthcare Interoperability Resources) is an open-source standard for healthcare interoperability that enables the electronic exchange of clinical information between electronic medical records (EMRs) and electronic health records (EHRs). It is designed to enable healthcare providers to quickly and securely share patient data across different systems, such as EMRs, EHRs, medical devices, and lab systems.
FHIR-based integration of EMRs and EHRs allows healthcare providers to easily access and share patient information. Healthcare providers can access patient data stored in EMRs and EHRs, such as lab results, medical images, prescription information, and more. This data can then be used to inform treatment decisions and provide better patient care. Additionally, FHIR-based integration makes it easier for healthcare providers to comply with regulations, such as HIPAA and Meaningful Use.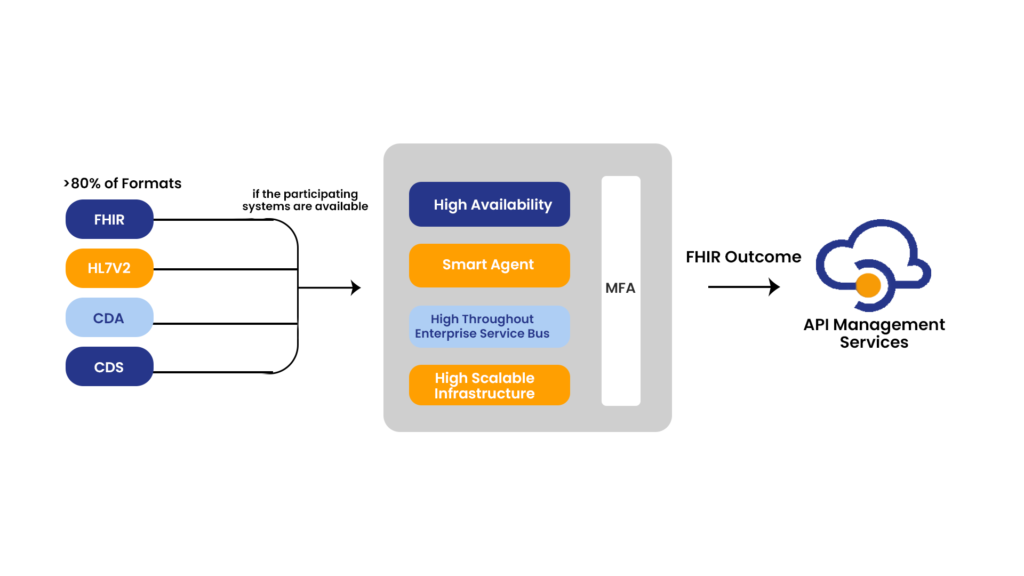 High Availability, Throughput, and Scalability
with Secure and Searchable APIs
Kafka is an open-source distributed streaming platform that can be used to build a FHIR integration system. Kafka allows for real-time streaming of data from different sources and sinks. It is capable of ingesting large volumes of data in a reliable and scalable manner. Additionally, it provides a range of features such as parallel processing, partitioning, and fault tolerance to ensure high availability and scalability. This makes it well-suited for large-scale FHIR integration projects. Kafka can be used to create a pipeline for the exchange of health data between different sources, such as EHR systems, medical devices, and wearables. Additionally, Kafka can be used to facilitate the transformation and validation of data prior to its storage in a FHIR-compliant database.
See What Our Users Are Saying
Don't just take our word for it, here's what some of our clients have to say about working with MLSoft. From streamlining data exchange processes to improving patient outcomes, our clients have seen significant benefits from our expertise in HL7 FHIR Healthcare. Read on to see what they have to say.
Working with MLSoft has been a game-changer for our healthcare organization. Their expertise in HL7 FHIR Healthcare has allowed us to streamline our data exchange processes and improve our efficiency, ultimately leading to better patient outcomes.
As a healthcare provider, we understand the importance of secure and efficient data exchange. MLSoft's integration of FHIR repos with our systems has allowed us to communicate easily and securely, ultimately improving the quality of care we provide to our patients.
We were struggling to manage our patient data across multiple systems, and MLSoft provided us with a comprehensive solution that enabled us to access complete patient data from one central location. Their commitment to healthcare interoperability has made a significant impact on our organization.
Would you like to start a project with us?
We understand that the exchange of electronic health information is critical to the success of any healthcare organization. That's why we offer advanced ETL processes and highly scalable H-C systems to facilitate interoperability among healthcare applications. Here are some of the benefits of implementing HL7 FHIR Healthcare in your organization.